TexMex Chips
Topped w/chilli, melted cheddar, jalapeno, and mango salsa
Cajun Rice Bowl
Add choice of shrimp or chorizo
Mac-n-Cheese
Topped w/bacon
Assorted Cheese, Crackers & Humus Plate
Includes Italian tri-meats, Greek olives, and grapes
Stuffed Avocado w/choice of:
- Fresh mozzarella-n-tomato w/balsamic glaze - Shrimp in a vintage dressing - Salsa topped w/choice of melted cheddar or monteray jack
Jumbo Shrimp Cocktail (4)
Sandwiches
(add avocado, bacon, tomato, or cheese...add $1.50) - Egg Salad - Tuna Salad - Chicken Salad - Turkey Melt - BLT
Baby Lamb Chops (3)
w/honey BBQ sauce , and side of sweet potato fries
The Vintage Dog
Beef or Chicken, topped w/cheese, chilli, jalapeno, red onions, and sour cream, w/side of cole slaw, potato or mac salad
Sliders (3)
Choice of:
- Quinoa w/chipotle sauce - BBQ pulled pork - Pastrami w/spicy brown mustard
Pierogies (6)
w/sauteed onions and sour cream
Jumbo Shrimp (5)
Wrapped w/bacon, grilled in a maple butter glaze, w/side
Pizzettas (8" Flatbread) Choice of:
- Fresh Mozzarella, crushed tomato sauce, topped w/fresh basil - Spinach & Artichoke - Broccoli & Cheddar
Taco's (Soft or Hard -2 Gluten Free) Choice of:
- Chicken or Beyond Beef "Meat" - Pulled Pork or Spicy Shrimp
Flat Iron Steak
Topped w/melted gorgonzola cheese, a side of sauteed garlic spinach
The Beyond Burger!
Topped w/lettuce, tomato, red onion, and Vintage chipotle sauce
Cauliflower Crust Pizza Pie (10")
(Same Choices as Pizzettas)
Quesadilla
Keto Wraps – Chicken, Pulled Pork, or Spicy Shrimp
Salads (add Grilled Shrimp $5.95, or Grilled Chicken 3.95) Choice of:
- Organic Baby Spinach topped w/sliced hard boiled egg - Mixed Green Salad w/either Artichoke or Avocado, topped w/chick peas
Brownie
$4.95
Cinnabun
w/sour cream frosting
$5.95
Biscotti
$1.95
Rainbow Cake
$6.95
Belgium Waffles
w/vanilla ice cream
$6.95
Crumb Cake
$5.95
Italian Cheese Cake
$5.95
Hot Chocolate Fudge Cake
$5.95
Mochi Ice Cream (2)
$6.95
A spoonful (ea.) of Gluten Free Ice Cream, wrapped in a soft, chewy layer of Japanese rice cake Vanilla Chocolate Chip
Mango Raspberry Chocolate Crunch Salted Caramel Azuki Red Bean Belgian Chocolate Toasted Coconut
Chili (spicy) or Soup(s) of the Day
- Add Cheese, Jalapeno, Avocado, Sour Cream, or Bacon) – 1.30 ea.
Tortilla Soup (spicy)
- w/Shredded Chicken, Avocado Slices, Tortilla Strips, topped with Cheese and Sour Cream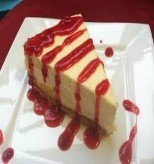 3316 Route 112, Medford, NY 11763
Wednesday-Sunday, 5:30-10:30pm
Copyright © All rights reserved.